Ron Speed Jr's Adventures
Premier Peacock Bass Fishing Outfitter to the Amazon!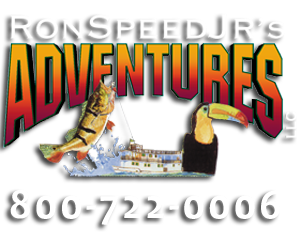 Our favorite outfitter is simple and clear - Ron Speed Jr's Adventures gets us to our exotic fishing locations safely, securely and with maximum fun for Amazon Peacock Bass and Mexico Bass Fishing!
Ron Speed Jr's Adventures provides the best peacock and Mexican bass fishing available from record-sized peacock bass of the Rio Negro in Brazil to the huge bass of El Salto and the numbers of big bass from the all new Lake Picachos! Annual trips during the most popular times fill fast so don't want to contact Ron Speed Jr toll free at 800-722-0006 now!
While you're at it, make sure you check out Ron Speed Jr's Brazil Peacock Bass Fishing Packages for more information about availability, safety, fun, the floating hotel - the Otter information and why Ron Speed Jr. is the premiere peacock bass fishing outfitter if you want your trip to be a huge success with HUGE speckled peacock bass, even a shot at record-sized fish!!
The fall fishing season is September and October, while the winter fishing season runs November through March before the rainy season starts. Weather is consistent running 70 F through 94 F with moderate to high humidity.
Ricky Green 24 1/2 Pound Peacock Bass
Retired pro bass angler Ricky Green hooks and lands a giant peacock bass on video!
Amazon River Pics
You can view by category by clicking headings below.