Big Peacock Bass from 2010
Big Peacock Bass from 2010, part 1
The Rio Negro was pretty low with lots of visible giant sandbars during out January 2010 trip to the mighty Brazilian Amazon Jungle river! We were on the hunt for the giant Speckled Peacock Bass that call the Negro home!

I was amazed by giant channel after giant channel and clean, white sandbars the size of city blocks to whole cities, one after another! I'd never seen a river this big though you pretty much have to go to the Amazon to do so since even our big Mississippi River pales in comparison to the Amazon and its major tributaries!
We had a great trip traveling high speed on the Amazon Clipper every night from Barcelos to Santa Isabel over 100 miles north, and fishing along the way in our bass boats every day so we were constantly fishing new water. The transition also occurred from big sandbars to giant rocks as we got closer to Santa Isabel making for never boring scenery!
We started out fishing lagoons and river channel sandbars. On the second fishing day of the 2010 trip I cast a big woodchopper-type topwater prop bait next to a main channel sandbar current break and got blasted hard by my biggest landed Speckled Peacock Bass of the trip! It was an 18-pound monster that jumped a couple times and pulled out lots of drag despite cranked down drag with heavy 80 lbs. test P-Line Spectrex IV braided super line!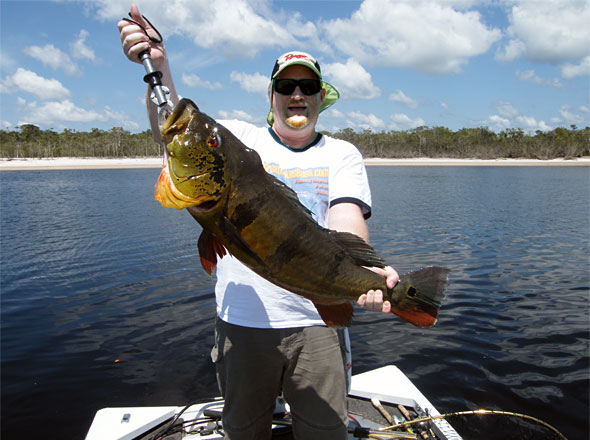 Before the trip was over I missed multiple shots at 2 much bigger peacock bass. Until you've been there and had a giant peacock bass blow up on your topwater it's hard to describe the heart-thumping thrill and sometimes agony of woodchopper fishing for peacock bass!
On one shallow lagoon mouth opening I missed a giant peacock bass 3 times! I still don't know how exactly but the strikes were so violent that one of them threw my big wooden topwater bait halfway back to the boat! Minutes after missing this giant bass multiple times I was blasted by a 13 1/2 pounder right up against a steep bank out of a little pile of foam. I had to sit down and rest 20 minutes because my heart was beating so fast from the thrill, shock and excitement that I thought it might pop in my chest! That's the most exciting, thrilling fishing experience I have ever had! It's addictive!!
Our trip was very successful and maybe above average for big peacock  bass I'm told so it was a lucky trip to be on. Our group landed 35 peacock bass over 10 pounds with a high number of 20 pounds plus peacock bass giving everyone lots to talk about and great memories along with the strong desire to return again!
Meanwhile Don Stevens was fishing with guide Alligator and fellow angler Randy VanDam when they got into several big peacock bass!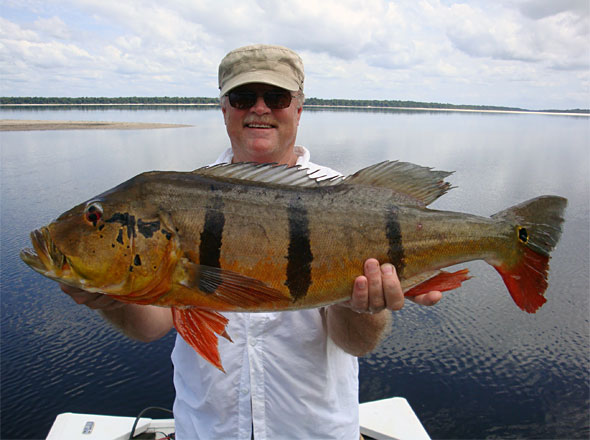 Don was throwing a mix of big woodchopper topwaters and some giant Rat-L-Traps along with a few other lures to catch his bass while Randy mostly stuck with the topwaters because of the EXPLOSIVE thrill of the big peacock bass strike!
Note: There are some people who say there is another kind of big Peacock Bass (Cichla temensis) they call a 'Royal' and some of these big peacocks are Royals (the 3-barred dark green ones) while Speckled have lots of spots on them along with lighter bars, but some anglers and most biologists believe these are spawning and seasonal variations of the same fish. Locals also call them tucunare paca or tucunare acu (pronounced assu usually). Paca are gold-brass-copper colored with very light bars and lots of white spots that are elongated at times. These are generally thought to be non-spawning at the time while the Speckled Peacock bass change to light blue-silver through to medium and dark green-orange-black when spawning, and males will get a large, fatty growth on top of their neck/back like a small humpback!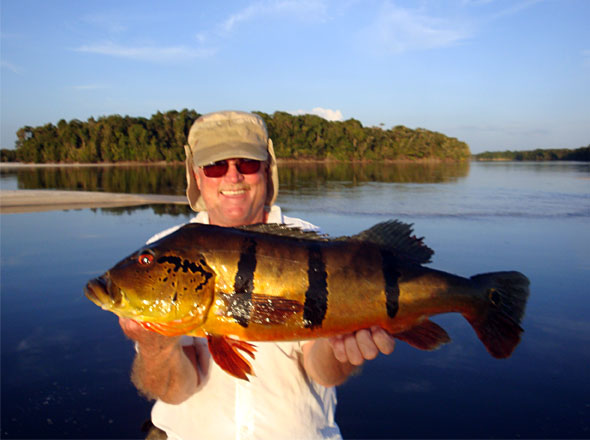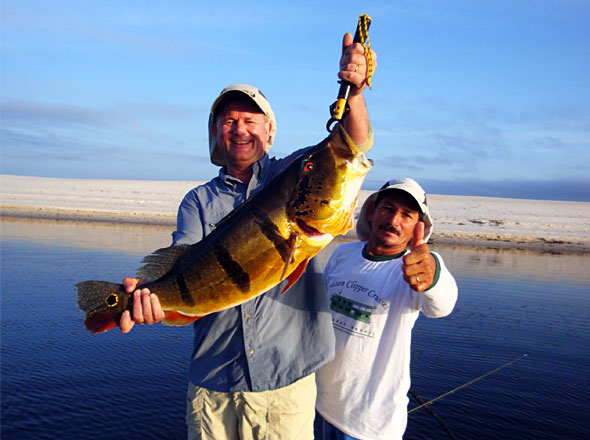 I had multiple shots at 2 peacock bass over 20 pounds but didn't connect though 1 of them hit 3 times on 2 different casts and 1 hit twice on the same cast. I had 1 other big peacock bass the guide thought was a 'big boy' too that I missed. Could have been in the same class. It wasn't for lack of trying but in the dark brown-black water of the Rio Negro visibility is poor over the long distance so sometimes the peacock bass miss. I also think the competition is fierce at times between multiple fish so they miss in their rush to get to the prey first!
I could rarely see peacock bass swimming though we got on schools of smaller bass several times and even did a little bit of sightfishing on some shallow sandbars they would move up on to feed. That was pretty exciting too because even a small peacock bass hits hard and strips on drag on our heavy rigs!
With my small amount of knowledge about bass being a shallow water fish – this being my first trip ever peacock bass fishing anywhere – I was more than a little surprised when guide Saba had us working out in the current in deeper water on a main channel. I was ripping my woodchopper only 10 or so feet from the boat when my 2nd biggest peacock bass of this trip SLAMMED it and stripped out line putting on a really exciting short-line fight that was completely unexpected!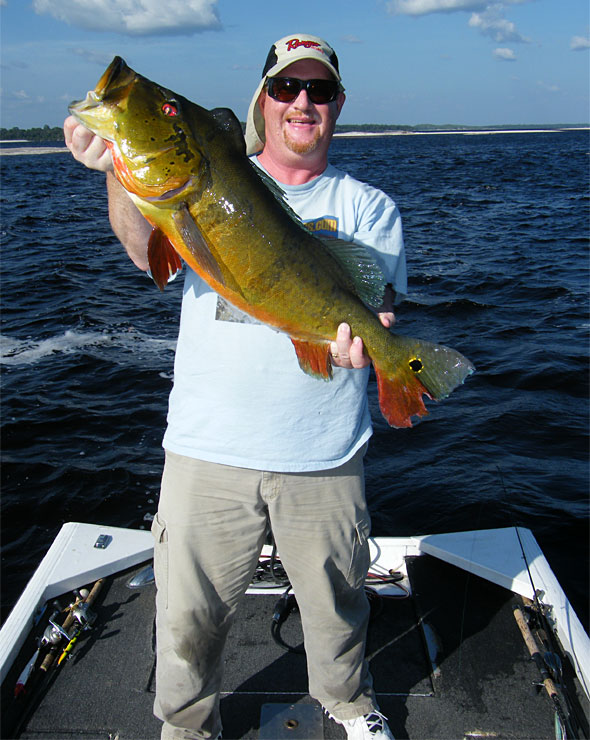 Note the really big fatty, spawning hump on the head of this peacock bass above. Though we did not easily duplicate this fishing pattern later with any bigger peacock bass it led me to believe that peacock bass may be more current-oriented than I think and there may be more fishing opportunity available to anglers than just fishing the obvious lagoons and shallow current breaks we cast to most of the time!?! The only thing fairly close by to this fish was a big rock pile sticking out of the water but the fish came out of a fast current break from an unknown depth when it hit, and it is hard to know how far they may follow a lure since the water is so dark and more often than not they commonly hit right away or in the first few feet of a cast.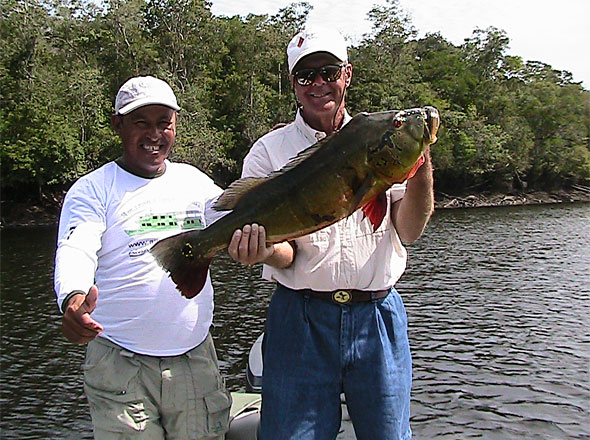 G spotted a couple large peacock bass in this big lagoon and would tell us when they were following our lure. I have no idea how these guides like G see and know what they know but they have too many amazing skills to no believe them and sometimes we actually get the bass to bite and there it is – another large peacock bass. Pat won big peacock bass of the day with the 21-pounder above!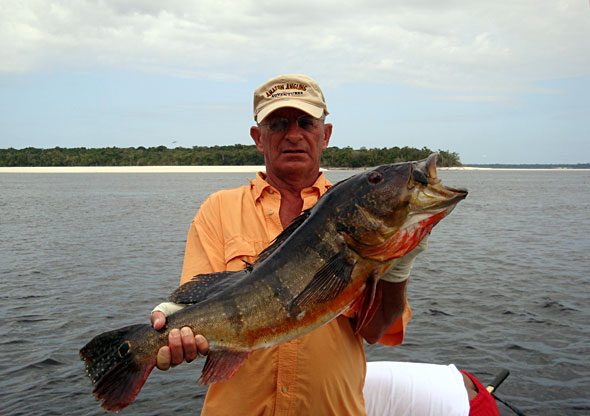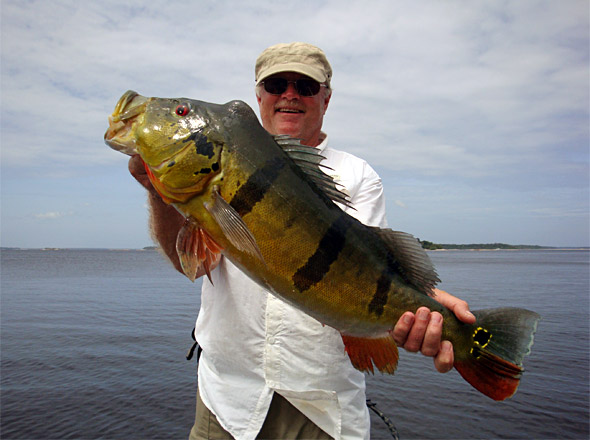 If you want to catch trophy Peacock Bass like these contact us for more information on how you can schedule your own peacock bass fishing trip and adventure!