Big Peacock Bass from 2010, part 2
More big peacock bass fishing pictures from our amazing January 2010 trophy fishing trip to the Rio Negro, Brazil deep in the Amazon Jungle! Part 1 had plenty of pictures of big and trophy peacock bass but here are even more of the big ones that didn't get away!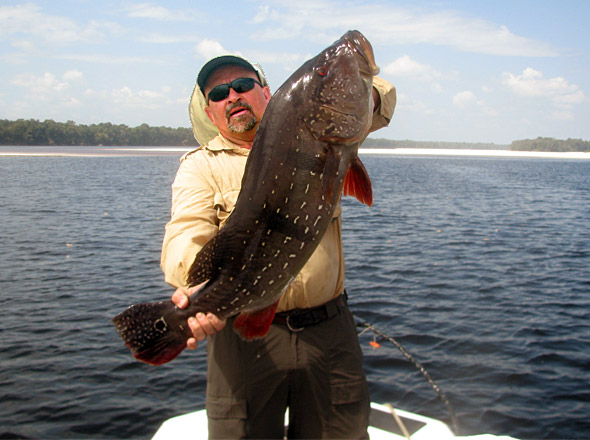 On a day when 'Gator' Jim Taylor caught, not 1 but 2 21 pound peacock bass here is the biggest paca-like peacock bass landed during our January 2010 trophy fishing trip to the upper Rio Negro to Santa Isabel and beyond where we could even begin to see a few mountains in the far distance including a couple old volcanoes. You'll see those in part 3 pictures.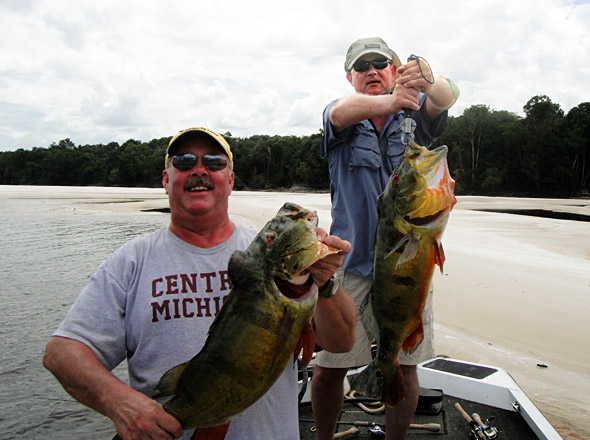 What's better than 1 big peacock bass? Ask Mark D. and Randy VanDam and they'll tell you it's doubling up on 2 big peacock bass! Both big spawn-phase males from the tale of the fatty humps on their heads!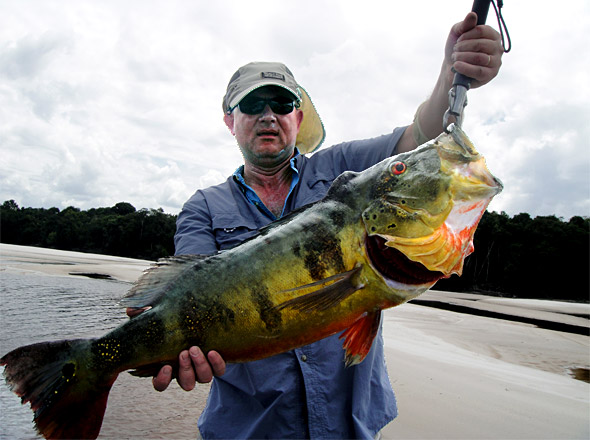 Randy VanDam goes on to slam another even bigger peacock bass the same day from a big sandbar out in the river channel! The Rio Negro is a big peacock bass paradise all bass anglers should make it a point to get to at least once!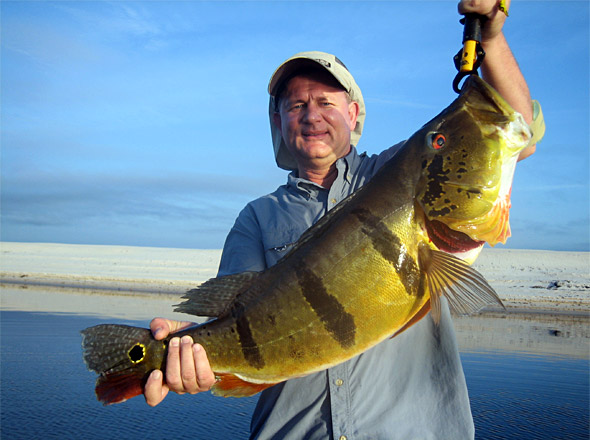 Rick and Tony get in on the action too in their boat with a number of big peacock bass including a few pushing true trophy size from the fertile brown-black waters of the mighty Rio Negro, Brazil!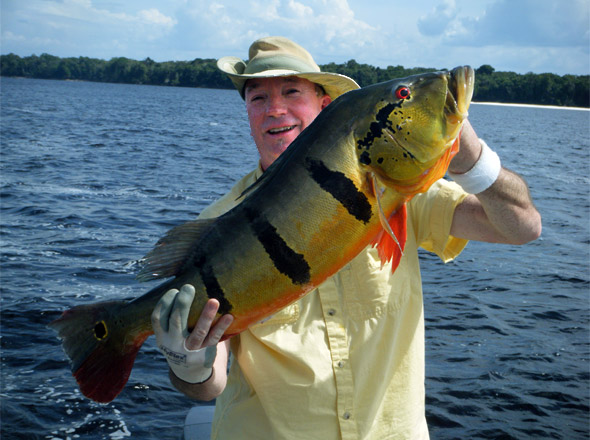 Tony P. lands another big peacock bass on a hot day of trophy peacock bass fishing in the Amazon Jungle hundreds of miles North of Manaus, Brazil.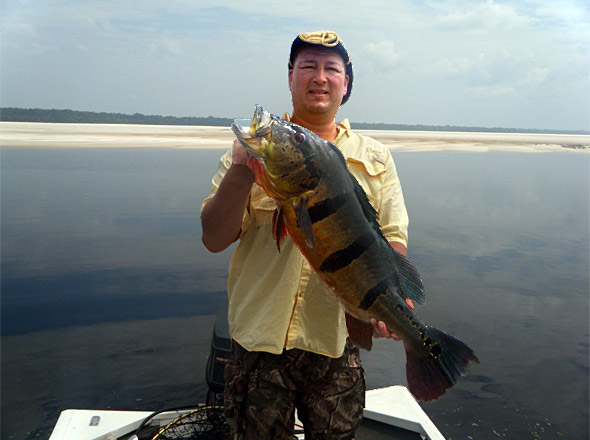 The big peacock bass bash continues with Tony P. landing an even bigger peacock bass while fishing with Rick!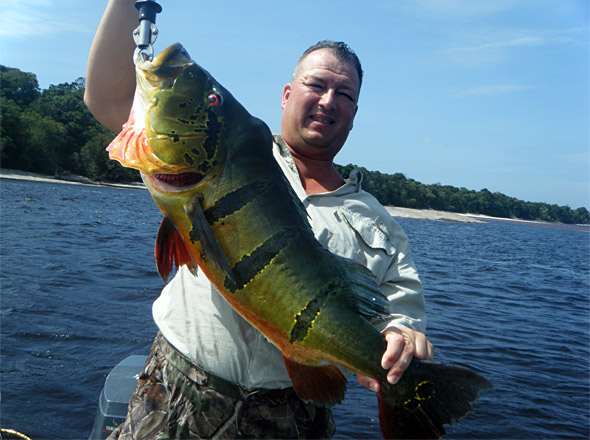 Rick gets back in on the action with 2 more big peacock bass with 2 spots on their tails. A couple more big peacock bass caught during our January 2010 big peacock bass bash fishing with Ron Speed Jr's Adventures on the Rio Negro!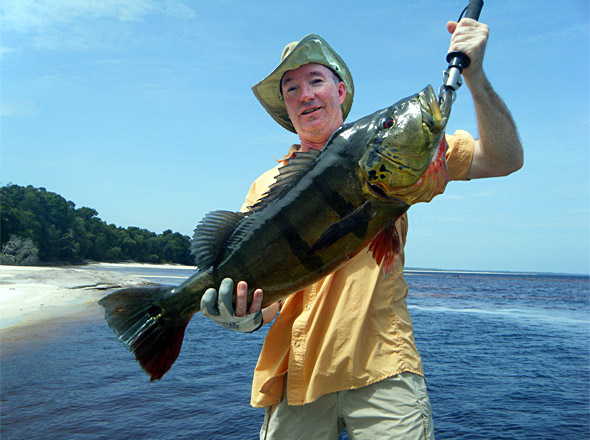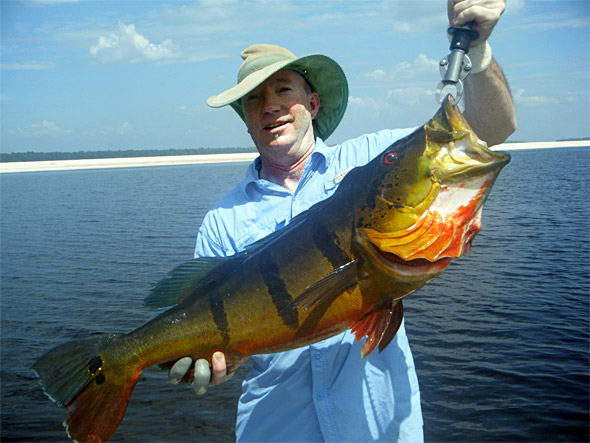 I had several close calls to bust the coveted 20 pounds mark throughout the week along with everyone else who did bust 20 pounds but I missed the peacock bass when it mattered landing the earlier part 1 18-pounder as my biggest but I did manage several more over 10 pounds including this very colorful 13 1/2 pounder that hit right after I missed one 3 times that was definitely over 20 pounds -a real Rio Negro river-monster but this 13 1/2 pounder still dumped out of a clump of foam along the side of an island like a dropped cement block onto my big topwater woodchopper – so a memorable peacock bass for me.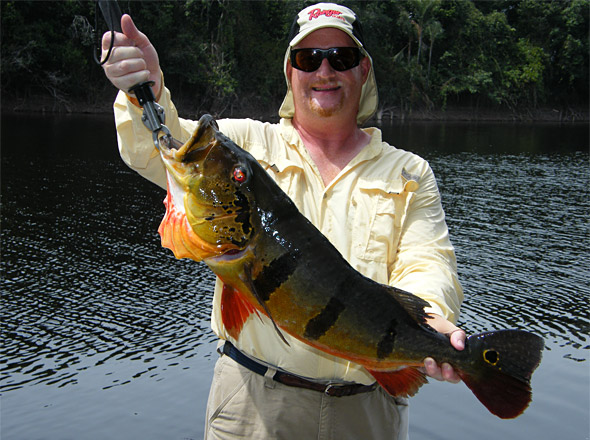 After this peacock bass unloaded on my topwater chopper I had to take a 20 minute break from fishing to slow down my beating heart! That's a good kind of fishing problem to have I can tell you for sure!
If you want to create your own amazing peacock bass fishing adventure go ahead an contact us! We try to hit the jungle every 2 years with trips that can take a limited number of anglers to their big peacock bass fishing adventure of their own! You may be able to hook up with us or we can help you get hooked up with another group on your schedule too!
We can't stress enough that if you go you must go through an outfitter that has the long-time trusted experience and track record to make your big adventure a big success. You need to hook up with guides that have the most, long-term experience on the Rio Negro and other key tributaries that hold the biggest peacock bass with a shot at record-size fish! Ron Speed Jr's Adventures is our exclusive Brazil Amazon Outfitter, and you can contact Ron and his staff directly if you like.